Es ist wieder Zeit für Cover Monday! Diese Aktion wurde von
the emotional life of books
ins Leben gerufen, bei der man jeden Montag ein wunderschönes Buchcover vorstellt!
Diese Woche stellen wir euch "Hex Hall" von Rachel Hawkins vor. Im Deutschen heißt das Buch "Hex Hall-Wilder Zauber".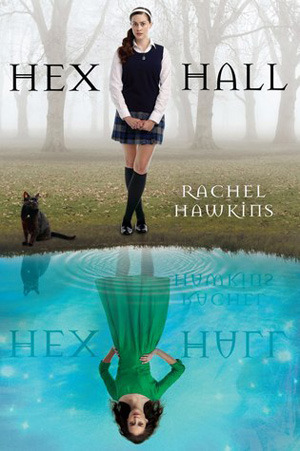 Inhalt:
"Three years ago, Sophie Mercer discovered that she was a witch. It's gotten her into a few scrapes. Her non-gifted mother has been as supportive as possible, consulting Sophie's estranged father—an elusive European warlock—only when necessary. But when Sophie attracts too much human attention for a prom-night spell gone horribly wrong, it's her dad who decides her punishment: exile to Hex Hall, an isolated reform school for wayward Prodigium, a.k.a. witches, faeries, and shapeshifters.
By the end of her first day among fellow freak-teens, Sophie has quite a scorecard: three powerful enemies who look like supermodels, a futile crush on a gorgeous warlock, a creepy tag-along ghost, and a new roommate who happens to be the most hated person and only vampire student on campus. Worse, Sophie soon learns that a mysterious predator has been attacking students, and her only friend is the number-one suspect.
As a series of blood-curdling mysteries starts to converge, Sophie prepares for the biggest threat of all: an ancient secret society determined to destroy all Prodigium, especially her.
"
[Quelle: Goodreads]
Wir finden cool wie das Cover eingeteilt ist. Der Effekt mit dem Spiegelbild sieht unserer Meinung nach richtig klasse aus und dass das Mädchen im Spiegelbild anders aussieht, ist auch sehr interessant. Das Cover macht auf jeden Gall neugierig auf den Inhalt und wir wollen es sobald wie möglich lesen!
Hier nochmal zum Vergleich das deutsche Cover:
Das deutsche Cover sieht auch schön aus, aber uns gefällt das Englische besser.
Wie findet ihr das Cover und habt ihr das Buch schon gelesen?